Do Fitboxing
Try a class
Trial
session
Free gloves and wraps
The countdown to summer has begun...
You only need two 47-minute sessions per week to get in shape.
Don't wait any longer!
Fitboxing
We alternate rounds of hitting the punching bag to the rhythm of music with functional exercises.
Results
We work cardio and strength. The most effective way to tone up and lose fat.
Fun
47' that go flying by. You'll leave with your batteries charged and a shot of positive energy.
Motivation
The punching bag's sensors will measure your energy, strength, and timing. You'll be able to see your improvement in the app.
Time slots
Are you having a hard time finding a moment to train? We have multiple schedules for you to choose the one that best suits you.
Club
Classes have a duration of 47'.
Plans according to your needs
Become a member
8 sessions per month
12 sessions per month
Session packs
1 Session
10 Sessions
5 Sessions
20 Sessions
Our facilities
Fully equipped for an unforgettable experience
Locker rooms with showers
What do our Fitboxers think?
Some opinions

Súper recomendable,le doy cinco estrellas porque no dejan darle más. Solo tengo palabras de agradecimiento para el equipo de Brooklyn Fitboxing A Coruña,magníficos profesionales y además encantadores todos. Te hacen sentir como en casa. Tienen un horario de clases amplio,el cual te permite organizarte con tiempo. Yo hice la sesión de prueba con mis compañeras de trabajo,y Clara es majísima y muy atenta,nos dio todas las facilidades para que pudiéramos ir en grupo. Los monitores son estupendos. Tengo que hacer una mención especial al monitor con el que más he entrenado,Borja. Borja tiene una memoria RAM de gigas ilimitados que hace que desde el minuto uno sepa tu nombre y no se olvide de el,haciendo que sientas el entreno mucho más personalizado. Tiene muchísimos conocimientos más allá de técnicas de fitboxing,que hace que no sólo entrenes sino que lo hagas bien,sin riesgo de lesionarte, y en el caso que tuvieras una lesión antes de ir,lo tiene en cuenta y te da ejercicios alternativos. Sus clases son muy divertidas y dinámicas y además tiene una capacidad motivacional brutal. Enhorabuena por vuestro trabajo equipazo. Si quieres entrenar divirtiéndote este es tu sitio.

Some opinions

Me encanta! se lo recomiendo a todo el mundo que quiera hacer deporte, desconectar y conocer gente muy maja! Los trainers se encargan de darte la motivación día si y día también para seguir y mejorar cada día. Si lo estás dudando, recomiendo mucho ir a la clase de prueba...seguro que te gusta👏🥊.

Some opinions

Es una manera muy divertida y eficiente de entrenar!! El ambiente, la atención y los entrenadores son excelentes, vale la pena!!.

Some opinions

Llevo 2 años en esto y ha sido de las experiencias más enriquecedoras que te tenido... No lo cambio por nada, es divertido a la par que intenso.... Me encanta!!! 😍.

Some opinions

Entreno desde hace un año en el Brooklyn de la avenida Finisterre es el mejor lugar para entrenar y pasárselo bien y sobretodo desconectar. Los monitores son increíbles. Sin lugar, a duda el mejor gimnasio de La Coruña.
Control your training from the APP
Follow the evolution of your training and your position in the ranking. Discover your score from your latest workout sessions to be able to improve.
Check class schedules and availability. Choose the day and time you want to work out and book from the app.
Become a member or purchase your session packs. Choose the plan that best suits you and don't miss your sessions when you're on vacation.
Book Now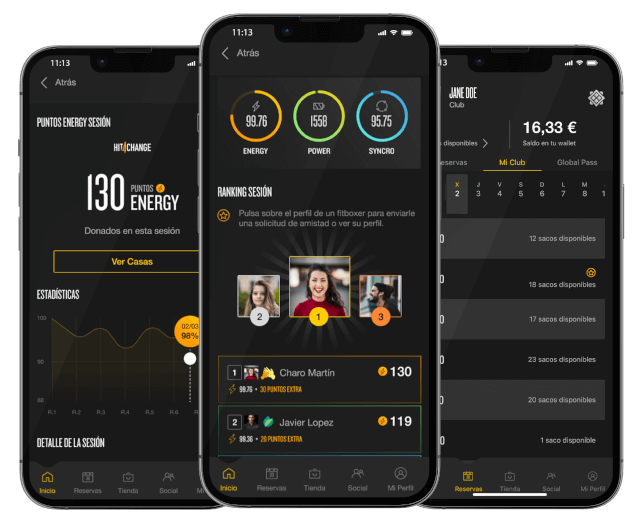 Club at A Coruña
Av. Finisterre, 265E
Pol. de la Grela
Frequently Asked Questions | FAQS
Here are the answers to the questions that our Fitboxers usually have.