Do Fitboxing
Try a class
Trial
session
Free gloves and wraps
The countdown to summer has begun...
You only need two 47-minute sessions per week to get in shape.
Don't wait any longer!
Fitboxing
We alternate rounds of hitting the punching bag to the rhythm of music with functional exercises.
Results
We work cardio and strength. The most effective way to tone up and lose fat.
Fun
47' that go flying by. You'll leave with your batteries charged and a shot of positive energy.
Motivation
The punching bag's sensors will measure your energy, strength, and timing. You'll be able to see your improvement in the app.
Time slots
Are you having a hard time finding a moment to train? We have multiple schedules for you to choose the one that best suits you.
Club
Classes have a duration of 47'.
Plans according to your needs
Become a member
8 sessions per month
12 sessions per month
Session packs
1 Session
10 Sessions
5 Sessions
20 Sessions
Our facilities
Fully equipped for an unforgettable experience
Locker rooms with showers
What do our Fitboxers think?
Some opinions

Non riuscivo a mantenere costanza su un'attività sportiva e Brookling Fitboxing è stata la soluzione! Da un anno, tre volte a settimana, super divertente e grandi soddisfazioni. Team super, ragazzi preparati e che sanno farti lavorare e divertire🔝.

Some opinions

Consiglio a tutti di provare Brooklyn Fitboxing, 45 minuti di allenamento intenso dove si alterna il sacco con gli esercizi funcionali. Impari sia la resistenza, la sincronizzazione e la forza in un modo molto più divertente. Tutti i coach ti aiutano tanto e lo fanno tutto molto più semplice!! Vi aspettiamo 🥊🥊🥊🥊.

Some opinions

Dopo aver fatto Kickboxing per anni di duro allenamento, consiglio a tutti di iscriversi qui, fai 45 min intensi più esercizi funzionali ma soprattutto ci si diverte anche con i coach !!!! Vi aspettiamo in tanti 🥊🥊🥊🥊.

Some opinions

Istruttori bravi, l'allenamento è divertente e 47 minuti volano davvero. Unica pecca: gli spogliatoi sono veramente ristretti.

Some opinions

Preparatevi a 45 minuti pieni di energia, divertimento e dinamicità! Con una buona dose di competitività che non guasta mai 😜 Menzione speciale per i trainer che ci seguono con tanta pazienza e passione!.
Control your training from the APP
Follow the evolution of your training and your position in the ranking. Discover your score from your latest workout sessions to be able to improve.
Check class schedules and availability. Choose the day and time you want to work out and book from the app.
Become a member or purchase your session packs. Choose the plan that best suits you and don't miss your sessions when you're on vacation.
Book Now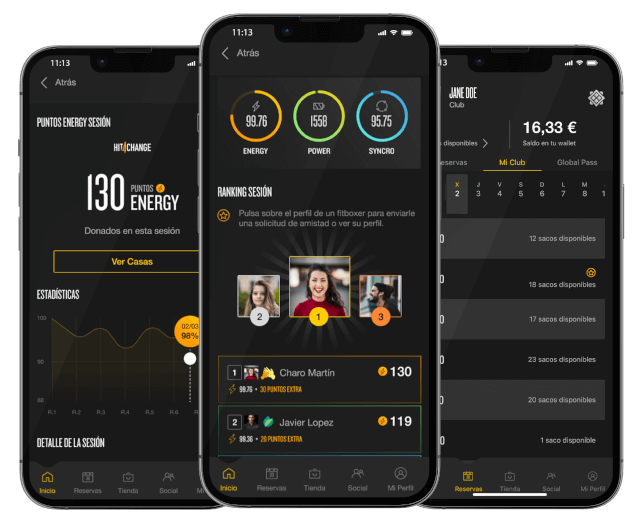 Club at Isola
Via Carlo Farini 30
Frequently Asked Questions | FAQS
Here are the answers to the questions that our Fitboxers usually have.