Trial
session
Free gloves and wraps
Fitboxing
We alternate rounds of hitting the punching bag to the rhythm of music with functional exercises.
Results
We work cardio and strength. The most effective way to tone up and lose fat.
Fun
47' that go flying by. You'll leave with your batteries charged and a shot of positive energy.
Motivation
The punching bag's sensors will measure your energy, strength, and timing. You'll be able to see your improvement in the app.
Time slots
Are you having a hard time finding a moment to train? We have multiple schedules for you to choose the one that best suits you.
Club
Classes have a duration of 47'.
Plans according to your needs
Become a member
8 sessions per month
12 sessions per month
Session packs
1 Session
10 Sessions
5 Sessions
20 Sessions
Our facilities
Fully equipped for an unforgettable experience
Locker rooms with showers
What do our Fitboxers think?
Some opinions

Nunca imaginé que un deporte me engancharía....y este lo hizo desde en minuto cero. Ameno, divertido y trabajas un montón.

Some opinions

Genial. La mejor experiencia deportiva.

Some opinions

Me llamaba mucho la atención este tipo de entrenamiento y hablando con una amiga me animo a probarlo y desde entonces me he enganchado. Me gusta mucho la dinámica que tienen en este centro. El entrenador es súper majo!.

Some opinions

La mejor manera de desconectar y encima haces ejercicio.

Some opinions

Nunca en mis 45 años de vida me había gustado hacer deporte pero descubrí hace un año Brooklyn Fitboxing y estoy súper enganchada ... te diviertes, trabajas todo el cuerpo y sueltas tensiones ... los entrenadores son majísimos y pendientes de ti ... con sus consejos personalizados he mejorado mi técnica de boxeo contra el saco ... y disfruto como una enana ... ALTAMENTE RECOMENDABLE.
Control your training from the APP
Follow the evolution of your training and your position in the ranking. Discover your score from your latest workout sessions to be able to improve.
Check class schedules and availability. Choose the day and time you want to work out and book from the app.
Become a member or purchase your session packs. Choose the plan that best suits you and don't miss your sessions when you're on vacation.
Book Now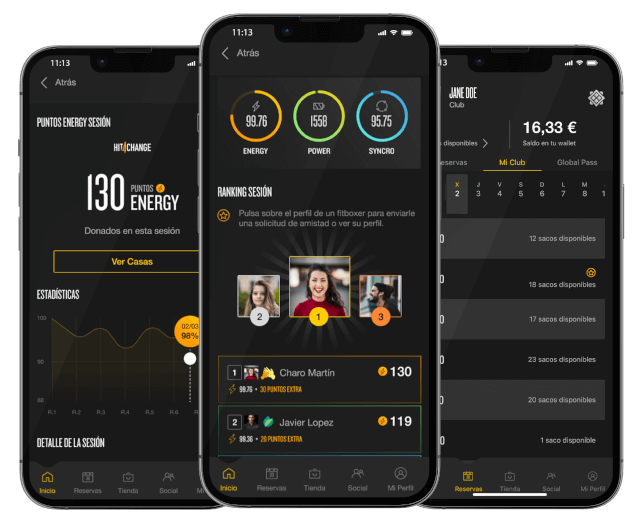 Club at Jaén
C. Santo Reino, 4
Frequently Asked Questions | FAQS
Here are the answers to the questions that our Fitboxers usually have.