Do Fitboxing
Try a class
Trial
session
Free gloves and wraps
The countdown to summer has begun...
You only need two 47-minute sessions per week to get in shape.
Don't wait any longer!
Fitboxing
We alternate rounds of hitting the punching bag to the rhythm of music with functional exercises.
Results
We work cardio and strength. The most effective way to tone up and lose fat.
Fun
47' that go flying by. You'll leave with your batteries charged and a shot of positive energy.
Motivation
The punching bag's sensors will measure your energy, strength, and timing. You'll be able to see your improvement in the app.
Time slots
Are you having a hard time finding a moment to train? We have multiple schedules for you to choose the one that best suits you.
Club
Av. del Reino de Valencia, 17
Classes have a duration of 47'.
Plans according to your needs
Become a member
8 sessions per month
12 sessions per month
Session packs
1 Session
10 Sessions
5 Sessions
20 Sessions
Our facilities
Fully equipped for an unforgettable experience
Locker rooms with showers
What do our Fitboxers think?
Some opinions

No esperaba una experiencia tan completa y satisfactoria en casi mi primer año con vosotros. La enorme motivación personal , el modo de ponerte en forma y el buen ambiente en las clases, no sería posible sin los principales culpables. Yo tengo la suerte de contar con Patricia habitualmente, te motiva, te "burpea" constantemente y consigue que saquemos el máximo rendimiento con técnica y esfuerzo. En otras ocasiones entreno con Pedro, otro profesional de aupa y con el que la clase pasa volando y con más sonrisas que lamentos. Gracias por estos primeros casi 12 meses!.

Some opinions

Ya llevo tiempo con ellos, y no puedo estar más contenta. Me encanta el saco, jamás me habría imaginado que podría divertirme tanto con el boxeo, es exigente e intenso, super completo, pero el ambiente, la música, y por supuesto los monitores, Patri, Pedro y José Luis, son brutales. Una vez lo pruebas , ya no lo quieres dejar.

Some opinions

Llevo mas de un año entrenando en este centro y estoy super feliz. El entrenamiento es muy divertido y los trainers son lo mas de lo mas!!! Recomiendo muchísimo a quien tiene duda de probarlo! Que no se van a arrepentir!!!!!.

Some opinions

Llevo un año yendo y estoy encantada, es divertido y se hace mucho ejercicio. Además los entrenadores son de 10. Siempre entreno con Patricia y Pedro y hacen todo lo posible por que saques lo mejor de ti. No puedo estar más contenta.

Some opinions

El mejor entrenamiento que puedes hacer si buscas desconectar haciendo deporte, divertirte y ganas de superarte. Vine hace un año a hacer la prueba, y me acabé enganchando a las clases de Joselu. Gracias por ese recibimiento, esa cercanía y esa motivación que han estado siempre presentes. Mencionar también las clases técnicas de Pedro. Son muy útiles para aprender correctamente la técnica y ponerla en práctica, además de lo divertidas que son. La calidad de entrenadores (Joselu, Pedro y Patri), me parece inmejorable. Tanto que me he mudado y sigo viniendo a este centro. GRACIAS Los compañeros son también una pasada. He conocido gente maravillosa con la que en seguida haces piña y en seguida te picas, que la cosa también va de eso. En cuanto a la gestión que se menciona en algunos comentarios, yo no he tenido ningún problema nunca. Incluso cuando el problema ha sido mío, que no he podido asistir o que he tenido que aplazar por motivos personales, siempre he recibido feedback. Considero también que los pagos están perfectamente explicados en la App (número de clases, cuándo caducan, cuándo se renuevan,…), que al final la tienes que usar sí o sí para reservar. Incluso si hay confusiones, todo es cuestión de hablarlo.
Control your training from the APP
Follow the evolution of your training and your position in the ranking. Discover your score from your latest workout sessions to be able to improve.
Check class schedules and availability. Choose the day and time you want to work out and book from the app.
Become a member or purchase your session packs. Choose the plan that best suits you and don't miss your sessions when you're on vacation.
Book Now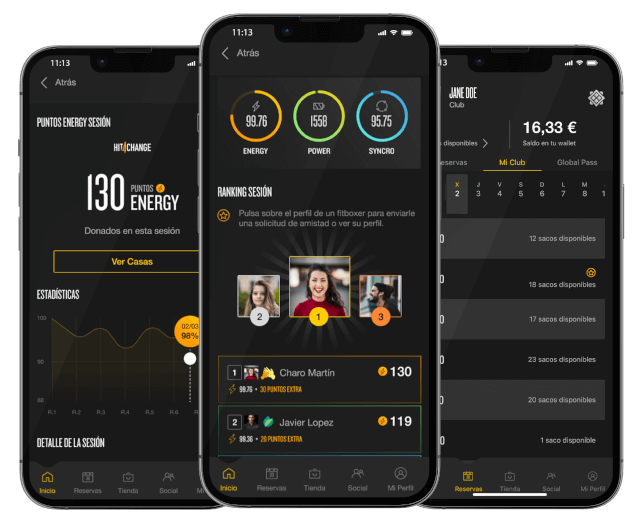 Club at Ruzafa
Av. del Reino de Valencia, 17
Frequently Asked Questions | FAQS
Here are the answers to the questions that our Fitboxers usually have.