Do Fitboxing
Try a class
Trial
session
Free gloves and wraps
The countdown to summer has begun...
You only need two 47-minute sessions per week to get in shape.
Don't wait any longer!
Fitboxing
We alternate rounds of hitting the punching bag to the rhythm of music with functional exercises.
Results
We work cardio and strength. The most effective way to tone up and lose fat.
Fun
47' that go flying by. You'll leave with your batteries charged and a shot of positive energy.
Motivation
The punching bag's sensors will measure your energy, strength, and timing. You'll be able to see your improvement in the app.
Time slots
Are you having a hard time finding a moment to train? We have multiple schedules for you to choose the one that best suits you.
Club
Classes have a duration of 47'.
Plans according to your needs
Become a member
8 sessions per month
12 sessions per month
Session packs
1 Session
10 Sessions
5 Sessions
20 Sessions
Our facilities
Fully equipped for an unforgettable experience
Locker rooms with showers
What do our Fitboxers think?
Some opinions

Lo mejor que me ha pasado en mucho rato, una forma agradable y divertida de hacer ejercicio. Miguel el monitor de más mañanas es muy agradable, está siempre pendiente de todo en las sesiones, las únicas 2 veces que he perdido alguna sesión la he recuperado por atención al cliente de manera telefónica. He invitado a 2 compañeros y están igual de encantados que yo.

Some opinions

Genial, fantástico, me he divertido muchísimo, he disfrutado de una buena sesión de entrenamiento. Buen ambiente, monitor que te guía y ayuda. Ahora, a por otra sesión 👏🏻👏🏻.

Some opinions

Estupendo centro de entrenamiento.Los monitores unos grandes profesionales.

Some opinions

Mi experiencia con atencion al cliente y especialmente con Antonio ha sido muy buena y rapida. Gracias Antonio! Los profesores del centro super profesionales. Hasta ahora mi experiencia positiva. Yo lo recomiendo. No le pongo 5 estrellas porque me parece algo caro, sobre todo si quieres ir con algún miembro de la familia, echo de menos un bono o paquete familiar. Añado a mi anterior reseña como sugerencia de mejora que se tenga disponibilidad de poder comprar merchandising con mayor rapidez. Solicité sudadera hace un mes y no sé ni cuando me llegará…. Una pena porque a algunos nos gustaría tener productos de Brookling y a la empresa le daría mas beneficios. Otra idea es gracias a conseguir emblemas con los challences, tener descuentos a la hora de comprar dichos merchandisings. Está claro que la empresa no ha explotado esta linea de negocio.. gracias!.

Some opinions

Monitores excelentes!!! Muy profesionales. Muy buen ambiente en las sesiones.
Control your training from the APP
Follow the evolution of your training and your position in the ranking. Discover your score from your latest workout sessions to be able to improve.
Check class schedules and availability. Choose the day and time you want to work out and book from the app.
Become a member or purchase your session packs. Choose the plan that best suits you and don't miss your sessions when you're on vacation.
Book Now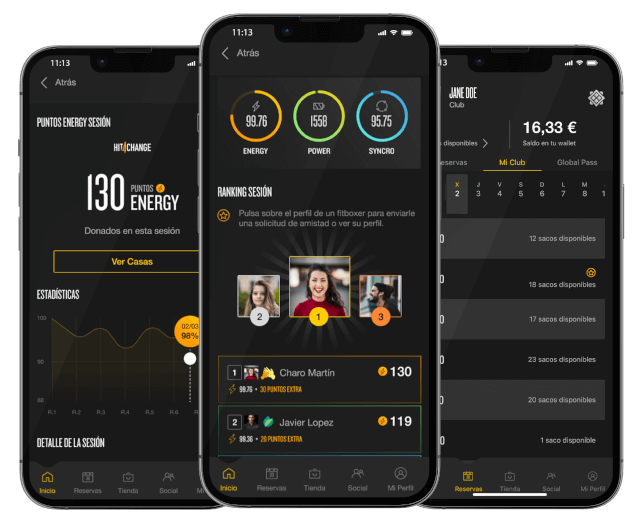 Club at Valdemoro
Av. Mar Mediterráneo, 5A
Local 56
Frequently Asked Questions | FAQS
Here are the answers to the questions that our Fitboxers usually have.